Charlie and the Chocolate Factory (film)
Talk

0
137pages on
this wiki
Plot Synopsis
Edit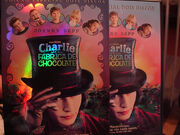 Willy Wonka (Johnny Depp) has built the greatest and largest chocolate factory in the world.
After some of his workers purloin his secret recipes, Willy Wonka kicks his workers out and closes the doors.
For 15 years, no one has visually perceived any workers entering or leaving the factory, yet his chocolate candy is still being produced and shipped around the world.
One day when Willy Wonka is acquiring his hair cut, he realizes that he is senescent, and he requires a successor.
He comes up with an orchestration to open his factory and reveal his secrets to five lucky children, who find golden tickets inside Wonka chocolate bars.
The golden tickets are sent around the world and soon 4 victors are promulgated.
The first to find a ticket is the acquisitive Augustus Gloop (Philip Wiegratz).
Second is the spoiled Veruca Salt (Julia Winter).
Next is the competitive gum-chomping Violet Beauregard (AnnaSophia Robb).
Fourth is the chocolate-hating techie Mike Teevee (Jordan Fry). (5)
There is one golden ticket left, and the achingly poor Charlie Bucket (Freddie Highmore) finds it. (18)
Charlie chooses his Grandpa Joe (David Kelly) to accompany him inside the factory, a place his Grandpa Joe once worked before it was closed. (34)
The other four children with their parents, and Charlie with Grandpa Joe, enter the factory and commence the tour of a lifetime.
The factory is not like your standard factory, but a living factory which mixes chocolate by waterfall, and boasts a river of chocolate that enables the group to tour the factory by boat.
They experience the great glass Wonkavator, which can go anywhere in the factory, in any direction, at the physical contact of a button.
During the tour, the group learns that all the work is now being done by the Oompa-Loompa tribe, who are paid in cocoa beans. The factory is indeed fantastic: trees and grass are edible, trained squirrels shell nuts for the chocolate bars, entire repasts are contained in a stick of gum, and incredible technology sanctions chocolate to be sent by television. s fantastic inventions with lamentable consequences which force them off the tour before it is completed.
Charlie is the last child left, and Willy Wonka awards Charlie the greatest prize of all, the keys to the factory, which Charlie refuses. s life: cut off from family and the world to devote oneself to the pursuit of chocolate perfection. t right for Charlie.
He relents and sanctions Charlie to bring his entire family into the factory with him, and they all live happily ever after.