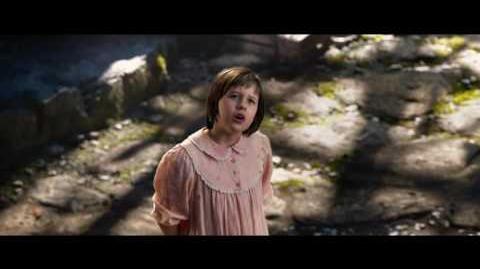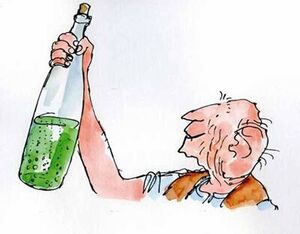 Frobscottle is a drink found in Giant Country, in "The BFG."  It is the only known drink to be consumed there.
DescriptionEdit
Frobscottle is a green-colored fizzy drink, where the bubbles go down instead of up.  This is the cause of Whizzpoppers (which are farts). It tastes delicious to Sophie and The BFG and to the other giants as well. It also makes the drinker fly and fart.
AppearancesEdit
The BFG (Book)
Edit
The BFG is the first and only Roald Dahl story to feature Frobscottle. Sophie and the Big Friendly Giant both had frobscottle when Sophie asked if there was water in Giant Country.  She thought it tasted of Vanilla and Cream, with a faint trace of Raspberries.
The Animated Feature Edit
In the Cosgrove Hall-produced animated feature, Frobscottle is purple instead of green.
2016 Film Edit
The props people of the 2016 film made this drink for the BFG. In The Movie BFG Frobscottle is pointed toward being made by snozzcumbers.
Ad blocker interference detected!
Wikia is a free-to-use site that makes money from advertising. We have a modified experience for viewers using ad blockers

Wikia is not accessible if you've made further modifications. Remove the custom ad blocker rule(s) and the page will load as expected.