Matilda
Talk

0
137pages on
this wiki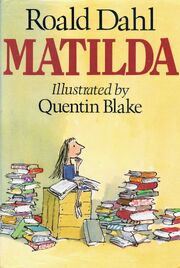 Matilda is a novel written by Roald Dahl in 1988. It centres around Matilda Wormwood, a remarkably intelligent 5 year old girl who obtains telekenetic powers which she uses to get revenge on the bullying adults in her life: her neglectful parents and her formidable headmistress, Miss Trunchbull.
Characters
Edit
Major Characters
Edit
Matilda Wormwood, the title character and protagonist. She is a neglected but sweet and kind girl with amazing intellect. Harry and Mrs. Wormwood's daughter. Mikey's little sister.
Miss Jennifer "Jenny" Honey, Matilda's teacher and the deuteragonist. She is The Trunchbull's niece.
Miss Agatha Trunchbull, the primary antagonist and Miss Honey's aunt. She is the violent principal of Crunchem Hall who abuses the children there. Miss Trunchbull is convinced that everything she does is for the students and Miss Honey's own good. A running gag through out the book and the movie is Miss Trunchbull saying that she was never a kid. 
Lavender, Matilda's best friend is the bestfriendogist and she stays by Matilda's side through all.Exept the part where Lavender puts the newt in Miss Agatha Trunchbull's water and Miss Agatha Trunchbull Imediatly blames it on Matilda. Lavender does not confess she just lets her friend get burned by Miss Agatha Trunchbull. When that havens she is the sonotagoodfriendoligst. But Matilda stays strong. And. Matilda. WINS.
Characters
Mr. Harry Wormwood, Mikey and Matilda's father. Mrs. Wormwood's husband and a small ratty looking man who's teeth stick out underneath his thin mustache , also second hand car dealer. Mr. Wormwood is prejudice against girls. 
Mrs. Wormwood, Harry's wife. She is Mikey and Matilda's fat mother who is hooked on bingo. Mrs. Wormwood does have a soft spot for her daughter. In the movie Mrs. Wormwood's first name is Zinnia. 
Michael "Mikey" Wormwood, Matilda's 10 year old brother. Harry and Mrs. Wormwood's son. A running gag through out the movie is Mikey throwing food at Matlida when he calls her dipface. In the book he leaves his little sister alone. 
Lavender, Matilda's best friend who puts the newt in The Trunchbull's water as a prank. She is the tritagonist. In the movie Lavender's an African American girl who wears glasses and Matilda knows that Lavender was the one who puled the newt prank on Miss Trunchbull. However, in the book Matilda isn't sure who did it. 
Nigel dick 
one of Matilda's classmates and the secondary tritagonist. His dad is a doctor. Nigel hurts Miss Trunchbull's feelings after he's disrespectful to her. 
Minor Characters
Edit
Hortensia, a 10 year old girl who tells Matilda and Lavender of The Trunchbull. In the book Hortensia is a bit mean to Matilda and Lavender, but in the movie she befriends them on Matilda's first day at Crunchem Hall. 
Amanda Thripp, a 10 year old girl with pretty blonde hair who Miss Trunchbull throws over a fence by her pigtails. In the movie Amanda is the same age as Matilda and they're both in Miss Honey's class. 
Bruce Bogtrotter, a 11 year old overweight boy who stole a piece of Chocolate Cake and the Trunchbull forces him to eat a huge cake. In the movie Bruce and Lavender are neighbors. 
Ms. Phelps, the kind old librarian at the library Matilda goes to. 
Rupert, a boy who the Trunchbull lifts up into the air by his hair. Rupert isn't seen or mentioned in the movie.
Eric Ink, a boy who the Trunchbull lifts in the air by his ears alone. They don't talk about Eric in the movie. 
Wilfred, the Trunchbull's final victim who she dangles by the air by his ankle.
Frederick "Fred", Matilda's friend. Fred owns a parrott that was a present from his dad. Fred doesn't appear in the movie. 
Cookie, the school cook and Miss Trunchbull's best friend. Cookie is a minor antagonist. In the movie Cookie hates kids just like Miss Trunchbull. 
Miss Plimsoll, the teacher of the older kids. She later becomes Matilda's new teacher. Miss Plimsoll isn't mentioned in the movie. 
Mr. Trilby, the Deputy Head of the school. Mr. Trilby isn't featured in the movie. In the final chapter of the book after Miss Trunchbull vanishes Mr. Tribly becomes the new principal.