Miss Trunchbull
Comments

0
147pages on
this wiki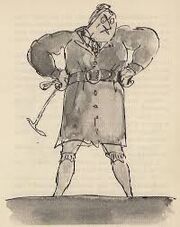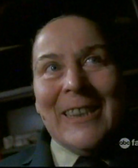 Miss Agatha Trunchbull
(born on c. 1946 in film version) is the main antagonist from
Matilda
.
Ms. Trunchbull is depicted as queen-sized who wears her hair in a bun at the upper rear end and her outfit is a bottle-green tight pants and a black belt with a silver buckle.She is a harsh, extremly cruel educator and tyrant who terrorizes children, and most of all dislikes children and states that she was glad that she was never a child or had fun.She makes a weekly visit to every classroom, and tends to take over, but mostly Miss Honey's. Her idea of detention is to put children into a horrific torture device known as the Chokey, a tall narrow cupboard in a drippy pipe with jagged edges where the walls have broken glass and nails sticking out, like an iron maiden. She is also strict on rules where she did not allow girls to have pigtails. She also does not like boys with long hair. She once threw a girl named Amanda Thripp over the fence by her pigtails, forced a boy named Bruce Bogtrotter to eat a whole 18-inch cake after stating that he stole her own personal cake and once put a boy into a terrible fatal state by throwing him out a 5 story window due to the fact that he was eating Licorice Allsorts while she was talking to his class.
In the 1996 film, her violence towards children was somewhat mitigated, though she can be considered to be murderous towards adults, as she threatened to kill Matilda's dad for selling her a defective car. Miss Trunchbull moved in with Dr. Honey to help him take care of Miss Honey when she was 2 after Mrs. Honey died . 
Relationships with others
Edit
Matilda Wormwood: A clever young girl, whom she considers as a liar and a scoundrel. She has also accused her of things that she did not do.