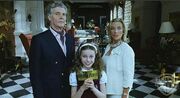 The Salt Family estate is a location in Charlie and the Chocolate Factory and its subsequent film adaptations. It is the home estate of Veruca Salt, her mom Mrs. Salt and her dad Mr. Salt.
The exterior of the mansion was Wrotham Park in Barnet, Hertfordshire while the interview scene was filmed in Hatfield House in Hertfordshire.
Ad blocker interference detected!
Wikia is a free-to-use site that makes money from advertising. We have a modified experience for viewers using ad blockers

Wikia is not accessible if you've made further modifications. Remove the custom ad blocker rule(s) and the page will load as expected.